Financial aid •
October 27, 2022
Purdue financial aid: a complete guide
Read all about financial aid at Purdue University, including scholarships, loans, and grants.
Purdue traces its origins to 1862, when President Abraham Lincoln turned over public lands to states that agreed to use the land for higher education related to agriculture and mechanics. 
Starting classes in 1874 with 39 students, today Purdue is a well-known school that has more than 49,000 students enrolled.
If you're a high school student and think Purdue might be the school for you, but you're worried about how you'll pay for college, we'll break down what you need to know.
A snapshot look at Purdue 
Located in West Lafayette, Indiana, Purdue University is the flagship campus of the Purdue University system, a group of public universities in the state. Since its founding in 1874, Purdue has grown to be one of the largest schools in Indiana and has very high research activity classifications. The school is also notable for the large number of astronauts it has produced – 26.
Students at Purdue can expect a rigorous academic experience thanks to the school's top 50 ranking nationally. However, as a public university, Purdue keeps costs low, making it an affordable option for in-state students.
Students at Purdue can select one of the university's schools and colleges, such as the College of Agriculture, College of Engineering, Krannert School of Management, or the College of Science. Purdue also offers multiple graduate programs.
Outside of class, students at Purdue can join one of the school's more than 900 student organizations. The university also has NCAA Division I programs that participate in the Big Ten conference, giving athletically-inclined students the opportunity to compete or cheer on their classmates.
Ranking: 49th in National Universities
Size: 49,639
Demographics: 58% male, 42% female
Acceptance rate: 58%
Average GPA of accepted student: 3.69
Key dates and deadlines (2022):
Application: January 15
Financial aid deadlines: April 15
A look at scholarships offered by Purdue
When it comes to paying for college, it's easy to get sticker shock. A degree can easily cost a hundred thousand dollars or even more. Many families save for years to pay for college, only to find that they haven't been able to save enough.
If you want to go to Purdue University but don't have enough money saved to pay for tuition, the best thing you can do to help cover the bill is to try to earn scholarships.
Scholarships are free money that you can put toward tuition and other educational costs. What makes them great is that they're not loans, so you don't have to worry about paying them back.
If you look around, there are many different scholarships out there. Some are based on athletic skill, while others are awarded based on academic achievement. There are also scholarships where you can win by luck, by writing a strong essay, or based on your financial need.
Purdue has a variety of scholarships available, including need-based and merit-based awards. The merit-based scholarships are highly competitive, with only 15% of students receiving merit-based awards. The university notes that only citizens, nationals, permanent resident aliens, and lawfully present aliens who are able to establish domicile in the US are eligible. International students can't receive these awards.
Outside of scholarships offered by Purdue, you may be able to qualify for federal grants, which work like scholarships. There are also scholarship programs operated by businesses, community groups, and other organizations. 
With some effort, you can find scholarships for everything from being tall to being left-handed. Our financial aid tips and tricks page has more info on finding scholarships and other sources of college funding.
Bank with Mos to unlock benefits to help you save and earn — like Scholarship Match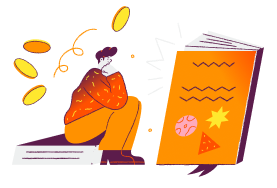 Student loans
Scholarships are the best way to pay for college, but if the scholarships you earn aren't enough to cover the full cost of your education, the next option to consider is a student loan.
The obvious drawback of student loans is that they're loans—you're expected to pay them back, plus interest over time. While loans can be quite expensive, investing in your education can be well worth the cost, so it's a good idea to consider one if you need help paying for school.
Purdue's financial aid website has information about the various loan programs available to students. One unique program is the Purdue Loan, which offers low-interest loans to juniors and seniors who have financial need.
In general, the best student loan program for most people is the Federal Direct Loan Program. These student loans come from the United States government and can come in 2 different forms.
Subsidized loans are better. When you get a subsidized loan, the government pays the interest for you while you're in school and during grace or deferment periods. With unsubsidized loans, interest starts to build up as soon as you receive the money, so you'll owe more as time passes.
Government loans are usually the best way to pay for school, but there are limits to how much you're eligible to borrow. Once you exhaust your federal loans, you'll have to consider turning to a private student lender.
Many banks, credit unions, and other money lenders offer specialized student loans to help people pay for the cost of college. The downside of private student loans is that they tend to have higher interest rates, making them more expensive. They also don't have some of the perks of federal loans, such as income-based repayment, deferment, and loan forgiveness.
Getting loans can be scary, but they're an essential tool when it comes to paying for college. Our article on student loans breaks down how they work.
FAFSA 
The most important thing to do for any college student who needs help paying for school is to fill out the Free Application for Federal Student Aid (FAFSA).
The FAFSA is the most important financial aid form you'll fill out because it's used by federal and state governments as well as most schools to determine your eligibility for financial aid.
When you fill out the FAFSA, you'll have to sit down with your family and answer a variety of financial questions, such as your family's annual income and how much money they have saved for school. Based on the answers, the government will determine your expected family contribution (EFC) to the cost of your education.
The difference between your EFC and your school's cost of attendance is your total financial need. The larger your need, the more need-based aid you'll generally receive. This can include things like subsidized loans, scholarships, and grants.
Keep in mind that most schools try to meet some of their students' financial need but don't guarantee that they'll meet 100% of need. You'll have to come up with the remaining money in other ways, such as merit-based awards and loans.
You can fill out the FAFSA as early as October 1st for money awarded in the next academic year. The deadline is the last day of June, but Indiana has an April 18th deadline for some programs. It also offers other awards on a first-come, first-served basis, meaning it's in your best interest to finish the application as soon as possible.
The FAFSA is a long and complicated form, so it's a good idea to prepare yourself by learning more about how long it takes to complete the FAFSA.
Purdue financial aid FAQs 
We'll answer some more questions you might have about Purdue University.
What is Purdue's cost of attendance?
The cost of attendance at Purdue ranges from $22,812 to $45,954. Indiana residents pay the lowest cost of attendance, while non-residents and international students must pay higher amounts of tuition.
For residents, of the $22,812 cost of attendance, $9,992 goes toward tuition, $10,030 toward room and board, and $2,790 toward other costs.
Can out-of-state students qualify for financial aid?
Yes, out-of-state students are able to qualify for financial aid from the federal government and the university. However, they won't be eligible for certain state aid programs. International students will have much more limited eligibility for aid.
How many students at Purdue pay no tuition?
Purdue doesn't publish information about how many students get a full ride for their degree at the school. However, 40% of the university's students receive some form of need-based aid, with the average award totaling $12,387.
What is the financial aid process at Purdue?
The financial aid process at Purdue starts with filling out the FAFSA, which you can do as soon as October 1st for aid awarded in the next academic year. There are also supplemental awards you can apply for with deadlines ranging from March to August.
Students begin to receive their award notices in mid-March. 
How can I lower my educational expenses?
Students at Purdue University need to cover tuition, room and board, and other educational costs. One of the best ways to reduce tuition costs is to be a resident of Indiana. If you have family in West Lafayette, you can also save on room and board by living with family.
What will be included in my financial aid package?
Your financial aid package at Purdue will include any need-based and merit-based scholarships that you receive. It will also include any government grants, subsidized and unsubsidized loans, and any state-based aid that you receive.
Does Purdue offer scholarships for exceptional students?
Yes, there are merit-based awards for exceptional students. For example, the Trustees Scholarship is available to students with exceptional academic achievement and a history of leadership and service in their school or community. It is renewable as long as students maintain a 3.0 GPA.
Universities like Purdue that you might be interested in 
Purdue is a great university for many students, but you might not be sure if it's the right school for you. If you're thinking about applying to Purdue, consider these alternatives too.
University of Michigan, Ann Arbor
The University of Michigan, Ann Arbor, is a top-ranked public research university. As a public school, it keeps tuition low for students from Michigan, making it a great choice for cost-conscious students who still want to attend a large research school.
With more than 275 degree programs and a 15:1 student-to-faculty ratio, students will find engaging classes in a variety of different disciplines. Students can also enjoy the school's many student organizations and cheer on its 29 NCAA Division I teams.
Notre Dame University
Located in South Bend, Indiana, Notre Dame is a well-known, private research university. The school was founded in 1842 by Rev. Edward F. Sorin, who aimed to establish a powerful Catholic university in the United States. Today, it is operated by a mix of lay and religious administrators.
Today, the school is recognized globally for its theology and philosophy programs, but it offers more than 70 other degree programs in subjects such as Economics, Computer Science, and History.
The school is also known for its athletic program. The Fighting Irish compete in many NCAA sports and have a passionate fan base across the country.
Northwestern University
Located in Evanston, Illinois, Northwestern is a good choice for students that want to remain in the Midwestern United States but who want a more urban college experience. 
Since its establishment in 1853 with a total of 10 students, the university has grown to a population of more than 21,000 students.
Northwestern is a top-ranked school nationally, ranking 9th overall, 24th globally, and boasting top 10 rankings for business, materials engineering, chemistry, and economics. If you're looking for rigorous academics, Northwestern is a strong choice.
Conclusion
Purdue is ranked among the best public universities in the United States and is especially well-known for its engineering program. If you're looking for a top-ranked school that keeps the cost of a quality education relatively low, you might want to consider applying to Purdue.
But still, the cost of getting an education at Purdue isn't cheap—Mos can help if you're looking for the best way to pay for higher education.
With Mos, you can get help negotiating for more financial aid, easily applying for scholarships and grants, and writing scholarship essays to help you earn extra funding to pay for tuition. Why not get started today?
Get paired with a financial aid expert

Get more money for school
Get me my money